Skeletal Dance Party
Skeletal Dance Party 1.2.0: Winter Patch
---
Winter is upon us and Reva's skeletal party has begun decorating the catacombs for Christmas. Take extra care to look underneath the Christmas trees while exploring, you might find something there!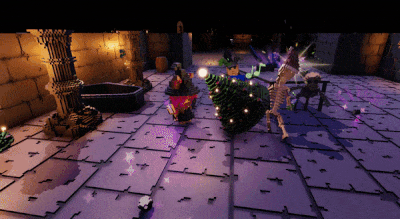 We are doing a holiday themes art contest with chances to win keys to Skeletal Dance Party. To participate draw a Skeletal Dance party character or characters in a holiday-themed scene or outfit and post to either our Amino, on Twitter, on Tumblr, Facebook or Instagram and use both #HauntedHolidays and #SkeletalDanceParty tags so we can find it. Reference art for all characters can be found here, more fan art can be found in our Amino.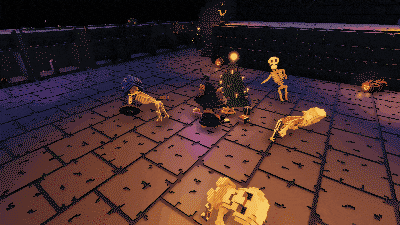 Terms:

All entries must be original and drawn between now and the stroke of January 1st (GMT).
Any entries in the SDP Amino must be tagged #HauntedHolidays.
Any entries on Twitter, Instagram, Facebook or Tumblr must be tagged both #HauntedHolidays AND #SkeletalDanceParty.
Keep it SFW.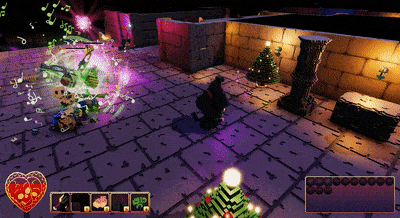 Skeletal Dance Party 1.2.0 Changelog:
New Features

Added Christmas decorations. - Added Morgues to levels containing fresh bodies.
Added more variation to level generator.
Added Christmas items for minions; Snowball, Candy Cane and Santa Hat.
Added more skeletal jokes.
Fixes

Fixed bug allowing secondary minions to drop items.
Magic Shield no longer rotates with body.
Fixed Floating Skull AI so it does not get stuck.
Fixed some materials glowing with white color.
Added text hint for how to drop items.
Fixed Soul Torch attachment flame size.
Fixed unassigned Voxels in Knight model.
Reva walks up stairs better.
These changes has also been merged down into the demo.

Files
skeletal-dance-party-linux-universal-demo.zip
108 MB
Version 1.2.0
Dec 18, 2018
skeletal-dance-party-osx-demo.zip
90 MB
Version 1.2.0
Dec 18, 2018
skeletal-dance-party-windows-x86-demo.zip
85 MB
Version 1.2.0
Dec 18, 2018
skeletal-dance-party-linux-universal-release.zip
195 MB
Version 1.2.0
Dec 18, 2018
skeletal-dance-party-osx-release.zip
177 MB
Version 1.2.0
Dec 18, 2018
skeletal-dance-party-windows-x86-release.zip
173 MB
Version 1.2.0
Dec 18, 2018